Revolt Energy Services Inc.
Revolt Energy is an independent third party sampling company that specializes in routine oil and gas sampling accross the western provinces.
We have the lowest resample rate in the business. Contact us today to find out how we can save you money while providing you with superior service!
References:
Please accept this as a reference for Kurt Schantz and his company Revolt Energy Services. For the past year, since Marquee Energy purchased Sonde Resource's Alberta assets, I have had the pleasure of working with Kurt. He has become an important part of our sampling routine and has made it a trouble free part of our operations.
Dan Lawrence
Production Foreman
Marquee Energy Ltd.
Kurt and Jason have established themselves as extremely competent, experienced technicians who have provided us with top notch service and virtually no re-sampling required as they do the job properly the first time.
They are very reliable in regularly servicing our areas at the times designated and have responded to short notice requests very quickly.
Bill Rae
Senior Operator
AltaGas Ltd

Revolt Energy Services is our vendor of choice to provide gas sampling services for our Bantry, Verger, Countess, Princess Areas.
I have absolutely no hesitation in recommending Revolt's services.
Neal Molder
Operator Brooks Gas
Enerplus Corporation
While working with Kurt over the last 7 years we have found him to be very reliable and professional. Kurt is very well connected with various labs and works to ensure that the proper equipment is at site and gets us the best price for our analysis needs.
Should you consider Kurt for any work you would be getting someone who is diligent and will go the extra mile to complete the task.
Darren Shell
Claresholm Area Foreman
LTA Management Inc.
2019 Price Schedule**
Technician / Truck Unit Charges
Technician Charges
(Rate includes the use of any required saftey equipment. No hidden fees.)
Hourly, regular time
$70.00
Hourly, overtime
as above
Kilometer charges
per km
$0.70
On-Site / Field Charges
Dew Point
each
$75.00
Tutweiler (field h2s)
each
$35.00
Stain Tube (field h2s)
each
$7.00
Tedlar Bag (trace sulphur/tutweiler)
each
$25.00
DEOS Sheets (analysis not included)
each
$150.00
Millipore Tests (filters and equipment)
By Quote per project
Accommodation & Meals
Cost
** PST/HST/GST extra.
Download PDF
Billing Locations: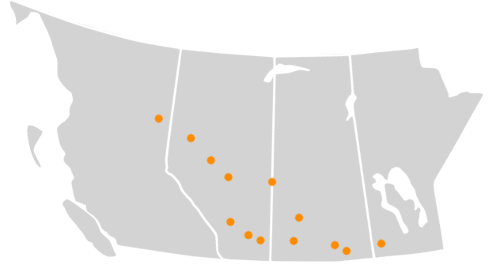 Locations:
Fort St. John, BC
Fox Creek, AB
Red Deer, AB
Calgary, AB
Medicine Hat, AB
Shaunavon, SK
Kindersley, SK
Swift Current, SK
Estevan, SK
Virden, MB
+ more

Management:
Alumni

Tracy Cryderman
Corporate Sales